Energy Services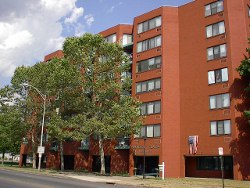 New York State Energy Research and Development Authority
Susan Dee provided energy
audit services for low-income and market rate housing under NYSERDA's ResTech and AMP programs.
Our energy expertise has brought savings to hundreds of clients enabling them to expand services, reduce waste, and reallocate utility costs to other budgets, such as deferred maintenance programs, capital projects, or equipment purchases.  Detailed examination of utility purchasing programs, rates, and usage patterns has resulted in substantial cost savings by identifying less expensive utilities, correcting operating problems, and implementing energy efficiency projects. 
Susan Dee Associates offers a full range of energy services including Energy Audits, Retro-Commissioning, Benchmarking and Sustainability Studies. We are imminently qualified to assist New York City property owners to comply with Local Law 87.
Premier Projects
NYS Energy Research and Development Authority
Ridge Oak Senior Housing - Basking Ridge, NJ
Watervliet Housing Authority - Watervliet, NY
Columbia University - New York, NY
Lake Street Associates - Newburgh, NY