Lake Street Associates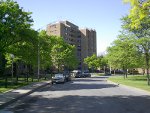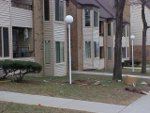 Lake Street Associates, an affordable multifamily property, is a 375-unit senior and multi-family housing complex consisting of  32 two-story townhouses, 12 two-story garden apartments and 1 nine-story apartment building. The owners applied to the NYSERDA AMP program in 2003 for assistance.  As a subcontractor to the program, Wendel Duchscherer Architects and Engineers were assigned to provide services.
As Manager of Wendel Duchscherer's residential programs, Susan Dee provided technical oversight, quality assurance and control and overall responsibility for the production of the site visit, energy assessment, TREAT model, and report. As principal of Susan Dee Associates, she was assigned the task of Principal Designee (PD) for tracking design and construction phases of the project.
A site visit, energy assessment, TREAT model, and final report were completed in May 2003 and consisted of recommendations amounting to $2,467,708, saving $171,466, 14,736 million BTUs, and 533,838 kWh. It consisted of the following energy efficiency measures:
Install Flow Restrictors in Showerheads
Install Flow Restrictors at Kitchen and Bathroom Sinks
Weatherstrip Tower Entrance Doors
Weatherstrip Apartment and Townhouse Entrance Doors
Replace Laundry Entrance Doors
Replace Patio Doors
Replace Top Load Washers
Upgrade Boilers and Domestic Hot Water Units
Upgrade Common Area Lighting
Install Sub-Metering in Apartments
Install CO Detectors
The energy scope of work was part of a multi-million dollar tax credit rehabilitation of the entire complex. The work commenced in October 2004 and was completed with modifications in July 2006. The project was funded with private money, an Energy Smart loan, and a NYSERDA AMP Grant.