Physical Needs Assessments
Susan Dee has performed physical needs assessments across the northeast, many of which focused on the development of a 20-year capital repair and replacement program. These needs assments included an extensive review of existing building and system conditions; cost estimates for all repairs and replacements; and the development of repair, preventive maintenance, and capital replacement programs. Financial analysis was performed to develop replacement reserve plans. Tenants were surveyed and their responses compiled. A simple database report was developed to enable facility personnel to track the status of their equipment conditions and repairs, to generate work orders, and to support budgets and funding requests.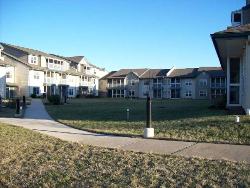 Stonebridge at Montgomery Continuing Care Retirement Community
Susan Dee Asscoiates performed a Building Condition Survey and 20 year capital plan for this 300,000 square foot multi-purpose facility in Princeton, NJ
Susan Dee Associates' staff have extensive experience in performing both comprehensive and specifically-defined assessments of facility conditions; in master planning of institutional facilities; and in developing plans, schedules and costs for facility maintenance and capital projects. 
Susan Dee Associates recently performed a Green Assessment for the Herkimer Housing Authority, funded by a HUD American Recovery and Reinvestment Act (ARRA) Competitive Grant for Green Operations. The scope of that project included conducting a Green Assessment, writing a comprehensive Operations and Maintenance Manual, developing a Green Procurement Policy, and delivering a Green Training package.
Susan Dee Associates is imminently qualified to assist Public Housing Authorities to comply with the HUD's latest Green Physical Needs Assessment mandate.
Premier Projects
Herkimer Housing Authority, Herkimer, NY
United States Post Office, Schenectady, NY
Embury Apartments, Saratoga Springs, NY
Woodrow Wilson Townhomes, Amsterdam, NY
Stonebridge at Montgomery, Stillman, NJ