United States Post Office
Repair and Alteration Inspections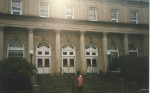 The United States Postal Service contracted with Susan Dee Associates to prepare Repair and Alteration Inspection Reports (R&A) for several of their upstate New York post offices, one of which was the Schenectady Main Post Office.  The Postal Service uses these reports as a comprehensive five-year budgeting tool that identifies corrections and changes foreseen for the building and systems.
The Schenectady Main Post Office is a 45,000 square foot facility originally built in 1900. A subsequent extension was added in 1936.  Few modernization activities have been undertaken since that time except for the addition of air conditioning in select offices.  The building houses space for mail receiving, sorting and distribution functions as well as administrative and support areas.
Information for the R&A was compiled from management, employees, and our own inspection. The field team visited each site examining all systems, architectural components and roadways and parking lots. Obvious deficiencies or problem areas were noted and a description of the appropriate remediation activity, with corresponding frame, was developed.
Other factors that were examined include structural and architectural concerns, operational deficiencies, renovation and modernization needs, space utilization, health and safety of employees, building code compliance, and ADA compliance issues. The study addressed security needs as well, and included an evaluation of energy conserving opportunities.
The team established each system's estimated and remaining useful life and balanced those factors with the level of maintenance being provided to determine when, in the next five years, equipment will need to be replaced.  The report consisted of a prioritized list of recommended actions and their associated cost estimates.  With this detailed analysis of current conditions and needs of the facility, the United States Postal Service was able to prepare informed budgets and work scopes for the next five years.