Embury Apartments
Energy Reduction Plan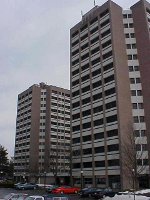 When the Embury Apartments facility wished to incorporate energy efficiency measures into the a major rehabilitation project that it was undertaking, Susan Dee Associates was hired to conduct a comprehensive energy assessment. This assessment was conducted as part of the New York State Energy Research and Development Authority's (NYSERDA's) Multifamily Performance Program. We evaluated a suite of potential measures to reduce energy consumption and to improve the health, safety, comfort, and security of its residents and staff.
Embury Apartments is a federally-insured Section 236, multifamily rental development which shares a site with the Wesley Health Care Center. Embury Apartments consists of 208 apartments in two 15 story towers (East and West) connected by a single-story multipurpose community building. Our assessment covered all three buildings.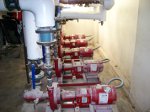 The Energy Reduction Plan that we provided detailed specific steps to be taken by the ownership and management at Embury Apartments to achieve the NYSERDA program's performance target of 20%. Implementation of this Plan and achievement of the performance target enabled this project to be recognized as a "New York Energy $mart Multifamily Building." The project was evaluated using NYSERDA's Benchmarking Tool to evaluate its current energy consumption relative to similar buildings.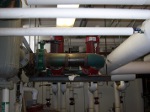 The Energy Reduction Plan included 17 recommended Energy Conservation Measures, most notably designing a new curtain wall and upgrading lighting, as well as health and safety options and management ant education options. We are able to estimate a 28% reduction in electric consumption and a 75% reduction in natural gas consumption, based on the savings realized when this set of improvements are implemented, which would well exceed the performance target of 20%.
Susan Dee Associates also conducted a thorough analysis of the previous two years' fuel and electricity bills. We compared this to data collected during an energy audit five years earlier. based on our findings we were able to make further recommendations that would allow Embury Apartments to reduce their utility bills.