Our Firm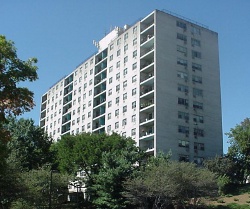 Executive Towers in Albany, NY
Susan Dee Associates conducted an energy assessment and a building condition survey at this low-to-moderate income cooperative.
Susan Dee Associates is a facilities planning and management firm providing services to help businesses better manage, maintain and improve their capital assets. The company was established in 1992 as Space Management Strategies by Susan L. Dee. In 1998, the company name was changed to Susan Dee Associates. Ms. Dee is supported in the delivery of client services by a team of engineers, architects, analysts, facility managers, and construction managers.
We provide inspection and assessment services to develop capital and maintenance plans, evaluate the effectiveness of existing operations and maintenance programs, improve energy performance, and manage construction projects.
Susan Dee Associates is currently focused on providing:
Physical Needs Assessments (PNAs)

Affordabe Housing
Market Rate Housing

Energy Audits and Retro-Commissioning Services

Government Energy Programs

Green Assessments and Sustainability Studies
Capital Project Development and Management